New! Explore our Fall Collection
---
Inspired by love & light, made with clean, simple ingredients
Phthalate-free fragrances
100% plant-based coconut-soy wax
Hand-poured in small batches
Eco-friendly packaging #reducereuserecycle
We're passionate about creating beautiful experiences that embody a happy, healthy lifestyle. We believe that self-care is important and feeling good elevates every aspect of your life.
We hope our candles encourage you to take a moment, slow down, and appreciate the little things.
"If light is in your heart, you will find your way home." -RUMI
OUR STORY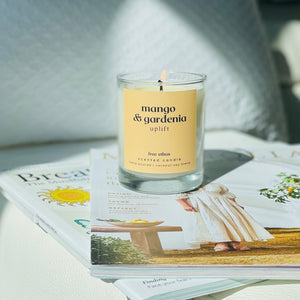 Candle Love
Gifted - "I received this as a gift for my birthday and OMG I am obsessed! It burns beautifully and the scent lasts long after burning. I can actually smell the faint scent of coffee whenever I walk by the candle even when it's not lit. This makes the perfect gift if you have coffee-obsessed friends like me!"
Sam A. - Verified Reviewer
Happiness in a Candle - "Highly recommend the experience to everyone! Burns well and has a beautiful after smell that just makes me happy :)"
Priyanka - Verified Reviewer
Lovely Candles - "Really cute packaging and well made. They smell wonderful!"
Brooke L. - Verified Reviewer
These are now my go-to candles! I wanted clean-burning natural candles, but thought they were unaffordable until I found Free Ethos. Awesome scents, stellar customer service, fantastic sales, adorable labeling, and clean ingredients. What more could you want? I've put multiple friends onto them, too. I highly recommend Free Ethos!
Erin F. - Verified Reviewer